Welcome Heddy Cortijo, RN!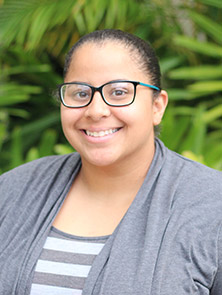 With 7 years of experience with The Plaza, Heddy knows our community & is a valuable asset!
Heddy Cortijo joined the Plaza at Punchbowl in 2014 as a Charge Nurse. She was promoted to Assistant Director of Nursing in 2018, where she assisted the Director of Nursing with the operations and management of the nursing department.  In 2019, she was promoted and became the Director of Nursing for The Plaza at Kaneohe. In 2021, Heddy joined the home office team as the Assessment Nurse Coordinator. 
Heddy was born and raised on Oahu and attended Moanalua High School. She started her career in healthcare working as a medical assistant and case manager for an agency that worked with the homeless population. Thanks to her experience with the agency and the influence of the many Nurse Practitioners she worked alongside, Heddy decided to further her education and attended Kapi'olani Community College, where she obtained both her Certificate in Practical Nursing and Associates Degree in Nursing. She then moved on and received her Bachelor's Degree in Nursing from the University of Hawai'i at Manoa. Heddy enjoys being a part of The Plaza family and working with our residents and their families to make them feel at home.
In Heddy's new role, she will provide added support to all Plaza Assisted Living communities and nursing teams while also being available to assist with urgent assessments for new residents and readmissions of our existing Residents.
Signs Your Loved One May Need More Help – What to Look for this Holiday Season
by Cara Clemmons, Director of Sales for The Plaza Assisted Living
With the holidays around the corner, many families are reconnecting with loved ones they may not have seen in some time.  While 2020 has allowed for an endless amount of virtual visits, such as Zoom calls with Mom, there are key signs to look out for when visiting in person. Below are a few things to take notice of and consider, when determining if your loved one may be in need of more care than their current living situation provides.
Is your loved one wearing the same clothes since the last time you spoke?  Does your loved one look a bit disheveled or are they managing their grooming as they did before?  Many adult children notice this as a sign that perhaps their loved one is not taking care of themselves as they used to.  Sometimes this is due to activities of hygiene becoming challenging, as they age.  Other times, this could be due to lack of routine, onset of dementia, or even geriatric depression. 
Has your loved one lost some weight?  Weight loss can be a sign that your loved one needs more help.  Older adults stop eating for a variety of reasons, and it is always a good idea to check in, to see what is happening, if you start to notice, they have shed a few pounds since last you saw each other.  This can be for a variety of reasons including a lack of interest in food due to wakened sense of taste, side effects of medications, forgetting to eat, loss or weakened sense of taste, depression or even challenges securing groceries. 
Is your loved one repeating themselves often, seem a bit foggy or even aggressive?  Forgetfulness and confusion happen to the best of us, and it is a normal part of the aging process.  However, if you are noticing this more and more frequently with your loved one, this could be a sign of cognitive decline.   Some experiencing cognitive decline can experience aggression as well, and this may be a big change in their behavior.  If you are seeing these signs, it is always a good idea to check in with your loved one's Primary Care physician, to monitor and even diagnose, if applicable.
Are there any physical injuries you notice on your loved one, such as bumps, bruises, skin tears or burns?  Are there any new visible damages to their vehicle or home?  Physical injuries and visible property damage can sometimes be symptoms of larger safety concerns in your loved ones life.  Many seniors may not remember a fall, but the physical injuries are a red flag, for you to investigate further. 
Does your loved one have any opportunities for socialization, or are they isolated?  In the era of COVID-19, so many of the normal socialization opportunities that our Kupuna had to engage with their peers have faded away.  Weekly choir practice has been canceled, church service has become virtual.  Reach out to your loved one and see if they have opportunities for socialization and human connection.  Socialization is not only good for cognitive health, but also good for the heart, as we are social beings who need interaction.  This also helps combat loneliness, isolation and depression.
Cooking Corner Recipe: Shoyu Chicken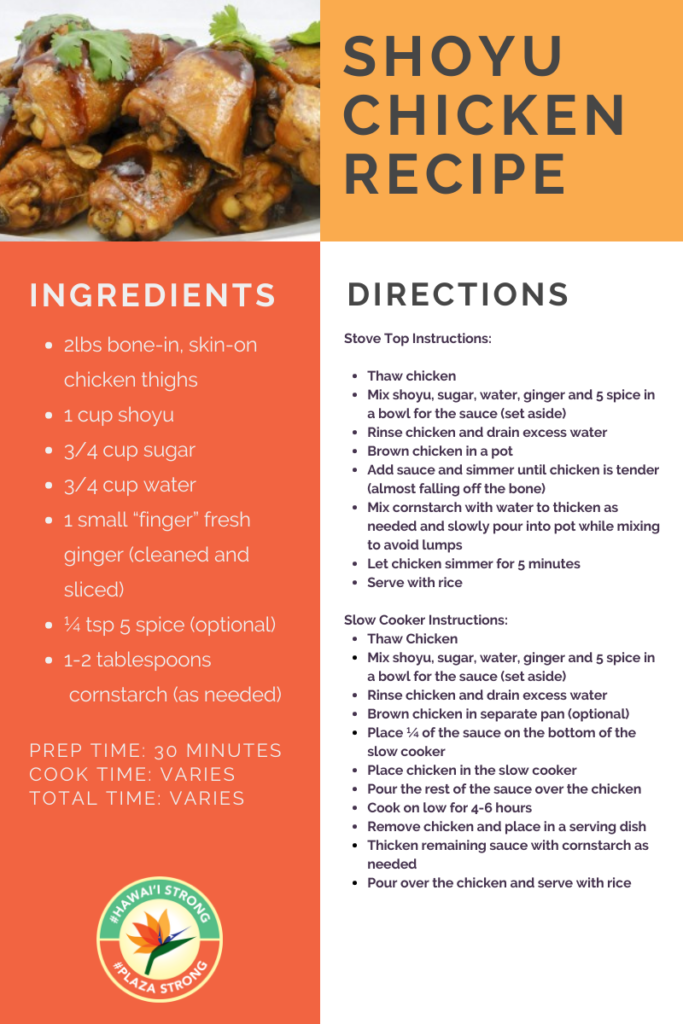 3rd Annual Hali'a Memory Care Conference – A Virtual Day of Learning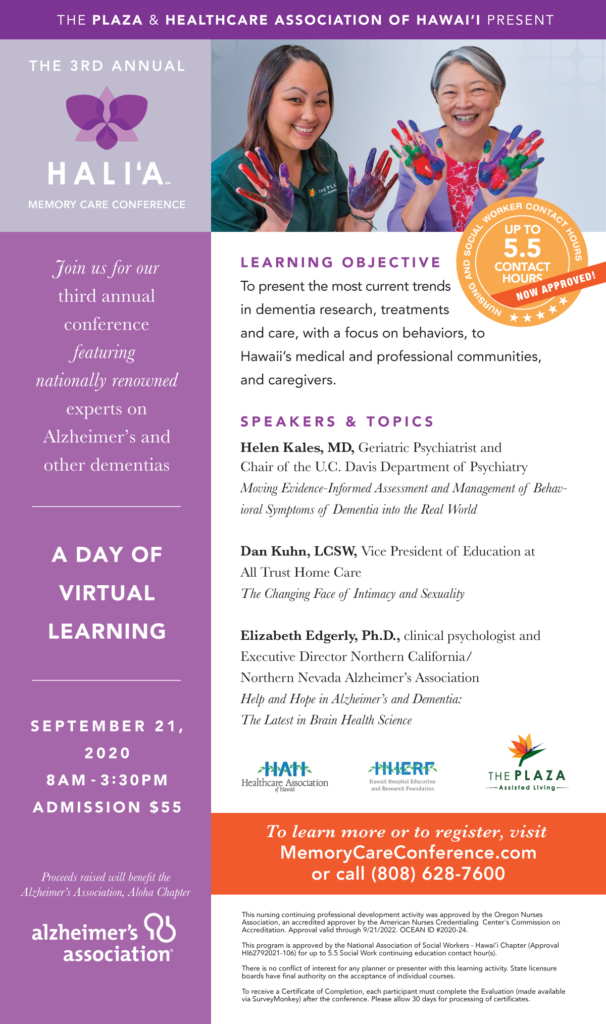 Suiting Every Taste: Communities find solutions to provide a rich range of choices and independence in dining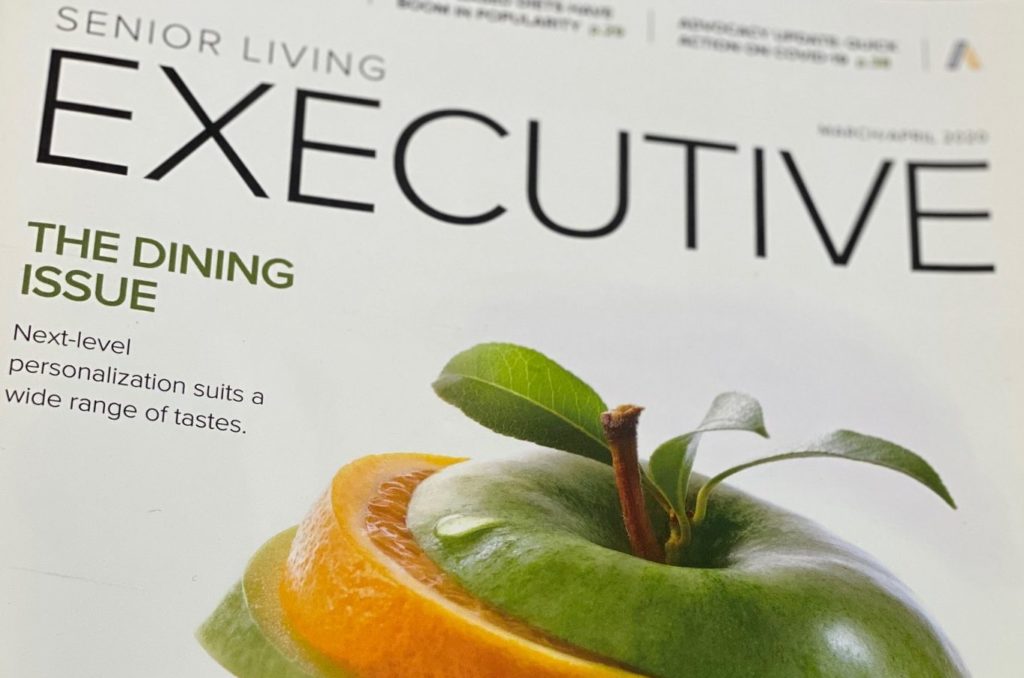 Mealtime has never been only about the food—that's been true for humans throughout history. It's a time to share, to converse, to shine, to appreciate what brings us together and to highlight what's unique about each of us. In senior living communities, the meaningfulness of that experience can be heightened.
"Knowing the importance that food and mealtimes has in our residents' lives, it is critical for us to make dining a true experience," says Tricia Medeiros, COO of The Plaza Assisted Living, which operates a collection of senior living communities in Hawaii.
Increasingly, a key part of meeting those high expectations is providing customizable, personalized dining experiences for residents, often with the help of tech-based tools. Jon Williams, COO, Crandall Corporate Dietitians, is one of those changing the erroneous perception that moving into a senior living community means a future of one-size-fits-all meals. That makes personalized dining "a critical step" in resident satisfaction, he says.
"A benefit of menu personalization is maintaining a resident's dignity by encouraging choice," Williams says. "When we provide residents with food they like, they tend to be happier, healthier, and more engaged in the community."
Effective personalization requires a menu system that includes a large recipe database, Williams says. Another must is communication: Making sure residents understand all their choices and how to get what they like.
Constant engagement is essential, says Joelle Wiese, corporate director of dining services at Brightview Senior Living, because needs and preferences can change "even with the seasons."
Residents should feel empowered in the makeup of their dining choices, says Medeiros. A feedback loop through avenues such as surveys, a resident council, and capturing informal feedback can ensure operators are "learning the residents' favorite dish, learning the recipe, and developing a real understanding of what they truly want."
"Avoid selling your menu to the resident," Medeiros says. "Next, develop a plan or menu that incorporates those preferences, and celebrate the residents' input."
The fine points of taste
Personalization isn't only about the menu. Choice in where and when to eat matters, too.
Some communities strive to offer dining on-demand. For instance, Brightview Senior Living, which operates more than 40 communities, offers all-day dining options in a variety of location types, such as pubs, formal dining spaces, and cafes. The all-day dining menus combine with the daily menu to provide an array of options with varying degrees of customization.
Brightview's Wiese notes that while choice and customization are staples in the restaurant business, they're particularly important in senior living.
"These two elements are pronounced when customers have a high visit frequency of local, on-site, dining operations provided for a community," such as in senior living or higher education, Wiese says.
An important component of personalization is aligning menus with residents' cultures. The Plaza Assisted Living communities, for instance, offers choices that reflect the cultural diversity of Hawaii's residents.
"Japanese, Hawaiian, Korean, Filipino, and American cuisines are commonplace and expected in our communities," Medeiros says.
"When building menus, it is important that all cuisines are included, and recipes are executed correctly. This carries over outside of the dining room and includes snacks and food during activities."
Maintaining cost efficiencies
Personalization adds complexity to a community's dining program, and complexity increases cost, Wiese points out. However, technology can help address one of the trickiest cost-related challenges customization creates for communities.
"With a greater selection of foods, dining venues, and events, it may be difficult for chefs to forecast exactly how much food to order and prepare," Williams says.
"This can lead to over-purchasing and overproduction which affects budget negatively. As in restaurants, we are seeing the use of tablets and point-of-service (POS) systems to track what residents are ordering and what are the most popular items. This is a significant tool in forecasting food production."
The eMenuCHOICE system, a web-based POS dining application for senior living, is among those offering the capability to track orders and develop forecasts based on data. Chefs can use the information to develop menus that fit their customers' preferences.
"You can control your costs while offering more choices, which is where people are trying to get to these days," says Matt Stenerson, co-founder and CTO of eMenuCHOICE.
The Plaza Assisted Living recently converted to a POS system in the dining room and on the care floors that allows residents to customize their starters, entrees, and desserts with alternative menu items and condiments.
In addition to customization, the system provides ease of ordering for residents and increased efficiency for staff.
"Satisfying everyone at the same time is a challenge," Medeiros says. "If we only have to satisfy one resident, this would be easy, but making a couple hundred residents feel special and personalized is a bit tougher."
Integrating healthy choices
With trends in senior living shifting from a hospitality and service model toward one of health and wellness, personalized nutrition becomes a central responsibility for communities, says Travis Palmquist, vice president and general manager, Senior Living, PointClickCare.
"Operators need to be able to provide customized dining and diet options to help their residents thrive while living with chronic and complex conditions," Palmquist says.
Consequently, solutions such as PointClickCare's Nutrition Management and eMenuCHOICE compile and maintain relevant health and nutrition records for residents.
When residents order using eMenuCHOICE, for instance, important health information is displayed, such as key dietary preferences and allergies or other restrictions. Residents can view photos and ingredient lists for each dish before making a decision. Menu items that conflict with those restrictions are highlighted, and alternative menu items are suggested for the resident.
"It's always displayed along with the resident and their order," Stenerson says. "Even when a ticket prints out to the kitchen—if you're doing restaurant kind of dining—you can have the allergens and the special diet information and the resident's name on that ticket. And so everybody is up to date with the latest information."
Emerging tech trends
While tablets and point-of-sale systems occupy a prominent place among the tech-based solutions helping residents customize dining today, other innovative solutions could be in the works for widespread use, following the lead of the restaurant industry.
For instance, robotics devices affixed with tablets could be employed for residents to make their menu selections, and facial recognition could be used to bring residents' preferences and restrictions to the forefront when it's time to order food.
Communities are also looking for ways to bolster on-demand delivery options for residents. Among the innovative methods on the rise in the restaurant industry is the use of ghost kitchens, which are commercial kitchens dedicated to preparing food solely for delivery.
In light of the growing appetite for food delivery—a $35 billion business projected to grow tenfold in the next 10 years, according to Restaurant Hospitality–senior living is projected by some to follow restaurants' lead and employ these specialized food preparation spaces. Some may partner with a delivery service to offer efficient delivery options and more choices for their residents.
No matter the technology at play, once a new system is implemented or a new philosophy is adopted related to dining, Williams says, training is critical.
"Looking at the analytics over the past few years, we have identified that training is the number one root cause when standards are not followed," Williams says. "Train, train, train. If staff do not understand the dining program, the program could lose flexibility."
References: