Welcome Heddy Cortijo, RN!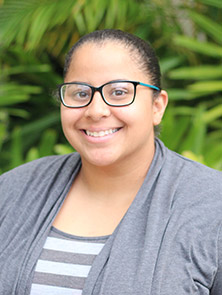 With 7 years of experience with The Plaza, Heddy knows our community & is a valuable asset!
Heddy Cortijo joined the Plaza at Punchbowl in 2014 as a Charge Nurse. She was promoted to Assistant Director of Nursing in 2018, where she assisted the Director of Nursing with the operations and management of the nursing department.  In 2019, she was promoted and became the Director of Nursing for The Plaza at Kaneohe. In 2021, Heddy joined the home office team as the Assessment Nurse Coordinator. 
Heddy was born and raised on Oahu and attended Moanalua High School. She started her career in healthcare working as a medical assistant and case manager for an agency that worked with the homeless population. Thanks to her experience with the agency and the influence of the many Nurse Practitioners she worked alongside, Heddy decided to further her education and attended Kapi'olani Community College, where she obtained both her Certificate in Practical Nursing and Associates Degree in Nursing. She then moved on and received her Bachelor's Degree in Nursing from the University of Hawai'i at Manoa. Heddy enjoys being a part of The Plaza family and working with our residents and their families to make them feel at home.
In Heddy's new role, she will provide added support to all Plaza Assisted Living communities and nursing teams while also being available to assist with urgent assessments for new residents and readmissions of our existing Residents.
Keeping our Residents Connected
Keeping our Residents and their loved ones connected is a priority.
At The Plaza, we understand that keeping our Residents and Families connected, especially during these unprecedented times, is a priority.  We are committed to providing safe visitation options and helping our Residents stay in touch with their loved ones.

Here are a few changes to keep an eye out for:
·  Outdoor in-person visits – available during visiting hours by appointment. * Days/times vary by community.
·  Virtual visits
o  Plaza Team members are available to facilitate virtual visits with Residents and their loved ones via Skype, FaceTime and Zoom by appointment.
·  Sagely App
o  Plaza Families can get daily text or email updates on the activities their loved ones are participating in at The Plaza.
·  Telephone
o  We encourage telephone communication as a means of staying in touch.  If a Resident does not have a personal telephone or cellular phone, a Resident courtesy phone is available.
·  Window Visits
o  Window visits may be arranged through the glass window pane.  This works best with both parties using a cellular phone during the visit.
·  Letters, Cards and Photos
o  Residents and their loved ones are also encouraged to mail hand written letters and cards and send photos when possible.
What to Expect Within Our Communities
At The Plaza Assisted Living, we are continually modifying our community safety procedures to align with guidance from the Hawaii State Department of Health and Centers for Disease Control. Our goal is to maintain our Residents, Families, and Team Member safety while minimizing the impact to our resident's quality of life.  Below please find safety measures put in place to help stop the spread of COVID-19 in our communities.
·  All Residents, Team Members, Visitors, and Vendor Partners, are required to wear a face mask at all times while occupying common areas within the community.  Additionally, Team Members are required to wear face shields over their masks while providing Resident care or services within a Resident's apartment, in common areas, when at their work stations, and or in back of the house areas with other Team Members.
·  Social distancing is encouraged at all times.
o  Modifications to programming and common areas have been made to allow for 6-foot distancing between Residents.
·  Communal dining has been modified to accommodate safe distancing.
·  Activity group sizes have been modified, unless a larger area providing safe distancing, is available.
·  Transportation has been modified, seating limited, to allow for safe distancing.
·  All events such as buffets have been canceled until further notice.
·  Any Resident who exhibits flu-like symptoms will be isolated in their apartment and will need a doctor's clearance before ending their isolation.
For latest updates regarding COVID-19 safety precautions at The Plaza, please visit:
https://www.theplazaassistedliving.com/resource-center/plaza-covid-response/
What We've Been Doing to Keep our Communities Safe
Throughout the COVID-19 pandemic, to help ensure the health and safety of our Residents and Team Members, The Plaza implemented multiple precautionary measures per the guidance and direction of the Hawaii State Department of Health and other regulatory entities.
While guidance has changed along the way, there have been four (4) main preventative activities practiced and supported at The Plaza Assisted Living to help stop the spread of COVID-19.
All Residents, Team Members, Visitors, and Vendor Partners, must wear a face mask and face shield at all times while occupying common areas within the community.
All Residents, Team Members, Visitors, and Vendor Partners, must sanitize their hands upon entering the community and are encouraged to regularly sanitize their hands throughout the day.
All Residents, Team Members, Visitors, and Vendor Partners are required to practice social distancing when occupying common areas within the community.
Protocols for cleaning and sanitizing the common areas and high touch surfaces have increased. Cleaning products include commercial-grade solutions that are known to kill the COVID-19 virus.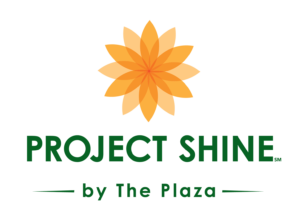 We actively continue to train and retrain our Team Members, Residents, and Families on all recommended safety measures as it relates to COVID-19 via our Project SHINE Program. Project SHINE is a program created by The Plaza in 2020 to bring the latest education and guidance surrounding COVID-19 to its Residents, Families, and Team Members. In addition, SHINE Teams have been identified at each community and provided additional training to enable them to respond confidently and care for our Residents effectively in times of community outbreaks or COVID-19 exposure.
Through multiple vaccine clinics at each of our six communities in January and February of this year, The Plaza Assisted Living has achieved a 99% vaccination rate amongst Residents. We are very thankful for all the support from our Residents and Families who have made this initiative so successful as we keep the safety of our kupuna a priority.
Adjustments to community Team Member assignments have been made to restrict set care floors or apartments whenever possible. COVID-19 units are set up at each community to allow for quick isolation/quarantine if needed due to a COVID-19 positive case or exposure.
Effective October 15th, 2021, The Plaza will mandate that all Team Members be fully vaccinated or be required to show proof of a current negative COVID-19 on a weekly.

For more information on our Project SHINE training program, email our community Administrators or our Director of Human Resources, Ashley Yokoyama.
Message from The Plaza
Yesterday, one of our communities was unfortunately the site of a tragic event.  At around 11:00am HST on Monday, August 31, a domestic incident occurred between a Resident of The Plaza at Waikiki and their visiting family member; resulting in two unattended fatalities.  Thankfully, none of our Team Members or other Residents were witness to the event, which took place in the parking garage of the community. 
Due to the ongoing investigation by the Honolulu Police
Department and Medical Examiner's Office, we are unable to comment any further
or share additional details.
While yesterday's event will be remembered with great
sadness and sorrow, we will forever be grateful for the outpouring of support
and gratitude received from our Residents, their families and so many others. No one could have anticipated or planned for what
happened, but as always in challenging times, we were united and will get
through this together.
Our thoughts, prayers and deep sympathies go out to the
family and loved ones of the individuals lost yesterday.
Signs Your Loved One May Need More Help – What to Look for this Holiday Season
by Cara Clemmons, Director of Sales for The Plaza Assisted Living
With the holidays around the corner, many families are reconnecting with loved ones they may not have seen in some time.  While 2020 has allowed for an endless amount of virtual visits, such as Zoom calls with Mom, there are key signs to look out for when visiting in person. Below are a few things to take notice of and consider, when determining if your loved one may be in need of more care than their current living situation provides.
Is your loved one wearing the same clothes since the last time you spoke?  Does your loved one look a bit disheveled or are they managing their grooming as they did before?  Many adult children notice this as a sign that perhaps their loved one is not taking care of themselves as they used to.  Sometimes this is due to activities of hygiene becoming challenging, as they age.  Other times, this could be due to lack of routine, onset of dementia, or even geriatric depression. 
Has your loved one lost some weight?  Weight loss can be a sign that your loved one needs more help.  Older adults stop eating for a variety of reasons, and it is always a good idea to check in, to see what is happening, if you start to notice, they have shed a few pounds since last you saw each other.  This can be for a variety of reasons including a lack of interest in food due to wakened sense of taste, side effects of medications, forgetting to eat, loss or weakened sense of taste, depression or even challenges securing groceries. 
Is your loved one repeating themselves often, seem a bit foggy or even aggressive?  Forgetfulness and confusion happen to the best of us, and it is a normal part of the aging process.  However, if you are noticing this more and more frequently with your loved one, this could be a sign of cognitive decline.   Some experiencing cognitive decline can experience aggression as well, and this may be a big change in their behavior.  If you are seeing these signs, it is always a good idea to check in with your loved one's Primary Care physician, to monitor and even diagnose, if applicable.
Are there any physical injuries you notice on your loved one, such as bumps, bruises, skin tears or burns?  Are there any new visible damages to their vehicle or home?  Physical injuries and visible property damage can sometimes be symptoms of larger safety concerns in your loved ones life.  Many seniors may not remember a fall, but the physical injuries are a red flag, for you to investigate further. 
Does your loved one have any opportunities for socialization, or are they isolated?  In the era of COVID-19, so many of the normal socialization opportunities that our Kupuna had to engage with their peers have faded away.  Weekly choir practice has been canceled, church service has become virtual.  Reach out to your loved one and see if they have opportunities for socialization and human connection.  Socialization is not only good for cognitive health, but also good for the heart, as we are social beings who need interaction.  This also helps combat loneliness, isolation and depression.
Cooking Corner Recipe: Shoyu Chicken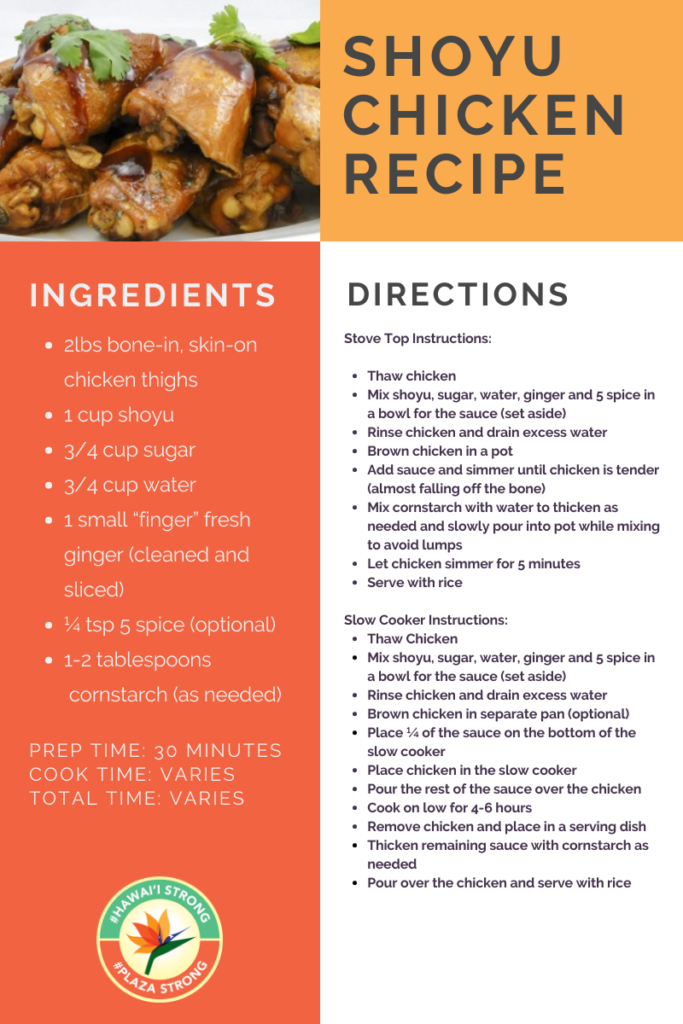 Letter to Residents & Families – Vaccinations
Plaza Level Status as of December 12, 2020
What to Expect When Moving into The Plaza During COVID-19 as of December 3, 2020