Throughout the COVID-19 pandemic, to help ensure the health and safety of our Residents and Team Members, The Plaza implemented multiple precautionary measures per the guidance and direction of the Hawaii State Department of Health and other regulatory entities.
While guidance has changed along the way, there have been four (4) main preventative activities practiced and supported at The Plaza Assisted Living to help stop the spread of COVID-19.
All Residents, Team Members, Visitors, and Vendor Partners, must wear a face mask and face shield at all times while occupying common areas within the community.
All Residents, Team Members, Visitors, and Vendor Partners, must sanitize their hands upon entering the community and are encouraged to regularly sanitize their hands throughout the day.
All Residents, Team Members, Visitors, and Vendor Partners are required to practice social distancing when occupying common areas within the community.
Protocols for cleaning and sanitizing the common areas and high touch surfaces have increased. Cleaning products include commercial-grade solutions that are known to kill the COVID-19 virus.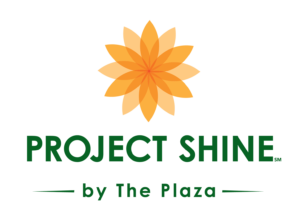 We actively continue to train and retrain our Team Members, Residents, and Families on all recommended safety measures as it relates to COVID-19 via our Project SHINE Program. Project SHINE is a program created by The Plaza in 2020 to bring the latest education and guidance surrounding COVID-19 to its Residents, Families, and Team Members. In addition, SHINE Teams have been identified at each community and provided additional training to enable them to respond confidently and care for our Residents effectively in times of community outbreaks or COVID-19 exposure.
Through multiple vaccine clinics at each of our six communities in January and February of this year, The Plaza Assisted Living has achieved a 99% vaccination rate amongst Residents. We are very thankful for all the support from our Residents and Families who have made this initiative so successful as we keep the safety of our kupuna a priority.
Adjustments to community Team Member assignments have been made to restrict set care floors or apartments whenever possible. COVID-19 units are set up at each community to allow for quick isolation/quarantine if needed due to a COVID-19 positive case or exposure.
Effective October 15th, 2021, The Plaza will mandate that all Team Members be fully vaccinated or be required to show proof of a current negative COVID-19 on a weekly.

For more information on our Project SHINE training program, email our community Administrators or our Director of Human Resources, Ashley Yokoyama.