The Plaza Coronavirus Precautions
The Plaza Assisted Living has always adhered to the highest health and safety standards to protect our residents, their families, our team members and vendor partners. Our six communities are prepared and trained in infection control as part of our standard operating procedures. Additionally, we have established new protocols to address issues surrounding the coronavirus outbreak.
We're taking precautionary steps to protect our communities including the following:
All residents and essential visitors (those visiting under an end of life circumstance), vendor partners, and team members will be required to pass enhanced screening protocol and COVID-19 related "house" rules.

Those who have participated in any travel, will not be allowed entry into a Plaza community for 14 days.

The individual must be symptom-free following the 14-day period

Those who have been in contact with a confirmed COVID-19 person, will not be allowed into the community for 14 days after last contact.
Those who exhibit flu-like symptoms won't be permitted to visit or work until 24 hours after being symptom free.
Temperature checks will be conducted for all visitors, vendor partners and team members entering the community, as well as residents returning to a community.

Anyone with a temperature at 99 degrees or higher will be further assessed and or will not be allowed access.

Residents returning from the hospital after admission, may be required to provide a confirmed negative COVID-19 test result

All will be required to sanitize their hands upon entering a Plaza community.
All will be required to wear a face mask while in the community, unless an underlying respiratory issue exists

Resident exceptions for masks will be during dining and when resident is in their own apartment

Children ages 13 and younger will not be allowed to enter communities.
Residents, visitors, vendor partners and team members are being advised to follow the City & County of Honolulu's Emergency Order No. 2020-11 & the Hawaii State's Eighth Supplementary Proclamation for COVID-19, which orders all Oahu and Hawaii State residents respectively, to refrain from all non-essential travel and activity and to shelter in place through Tuesday, June 30, 2020.

If a Resident leaves the community for non-essential activity, they will be asked to quarantine in their apartment for 14-days upon their return.

Residents who exhibit flu-like symptoms will be isolated in their apartment, away from other residents. These Residents will need a doctor's clearance before coming off isolation.
All outside entertainment, community events such as buffets, field trips of a recreational nature have been cancelled until further notice.
All resident communal dining has been suspended until further notice.
All group activities within the community are limited to 10 residents or less with 6 feet or more of social distancing.
Medical transportation is being provided for essential appointments only.
State of Hawaii: 8th Supplementary Proclamation for COVID-19
Beyond Recover – Reopening Hawaii Presentation
Dementia Care During the COVID-19 Crisis
City & County of Honolulu: Emergency Order No. 2020-11
Updates for Residents & Families
Suiting Every Taste: Communities find solutions to provide a rich range of choices and independence in dining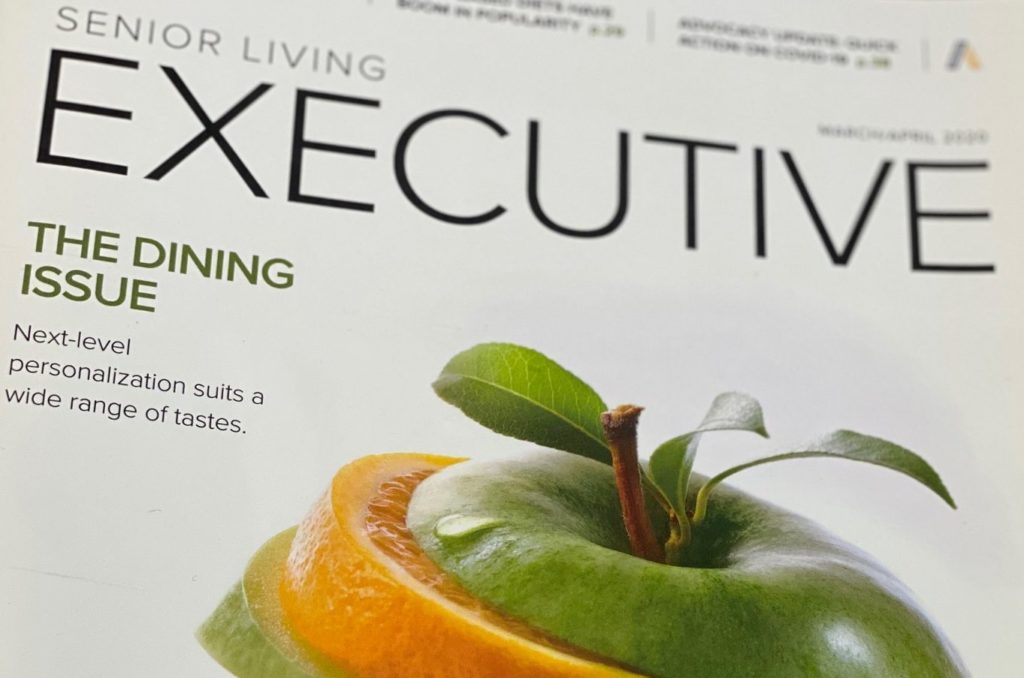 Mealtime has never been only about the food—that's been true for humans throughout history. It's a time to share, to converse, to shine, to appreciate what brings us together and to highlight what's unique about each of us. In senior living communities, the meaningfulness of that experience can be heightened.
"Knowing the importance that food and mealtimes has in our residents' lives, it is critical for us to make dining a true experience," says Tricia Medeiros, COO of The Plaza Assisted Living, which operates a collection of senior living communities in Hawaii.
Increasingly, a key part of meeting those high expectations is providing customizable, personalized dining experiences for residents, often with the help of tech-based tools. Jon Williams, COO, Crandall Corporate Dietitians, is one of those changing the erroneous perception that moving into a senior living community means a future of one-size-fits-all meals. That makes personalized dining "a critical step" in resident satisfaction, he says.
"A benefit of menu personalization is maintaining a resident's dignity by encouraging choice," Williams says. "When we provide residents with food they like, they tend to be happier, healthier, and more engaged in the community."
Effective personalization requires a menu system that includes a large recipe database, Williams says. Another must is communication: Making sure residents understand all their choices and how to get what they like.
Constant engagement is essential, says Joelle Wiese, corporate director of dining services at Brightview Senior Living, because needs and preferences can change "even with the seasons."
Residents should feel empowered in the makeup of their dining choices, says Medeiros. A feedback loop through avenues such as surveys, a resident council, and capturing informal feedback can ensure operators are "learning the residents' favorite dish, learning the recipe, and developing a real understanding of what they truly want."
"Avoid selling your menu to the resident," Medeiros says. "Next, develop a plan or menu that incorporates those preferences, and celebrate the residents' input."
The fine points of taste
Personalization isn't only about the menu. Choice in where and when to eat matters, too.
Some communities strive to offer dining on-demand. For instance, Brightview Senior Living, which operates more than 40 communities, offers all-day dining options in a variety of location types, such as pubs, formal dining spaces, and cafes. The all-day dining menus combine with the daily menu to provide an array of options with varying degrees of customization.
Brightview's Wiese notes that while choice and customization are staples in the restaurant business, they're particularly important in senior living.
"These two elements are pronounced when customers have a high visit frequency of local, on-site, dining operations provided for a community," such as in senior living or higher education, Wiese says.
An important component of personalization is aligning menus with residents' cultures. The Plaza Assisted Living communities, for instance, offers choices that reflect the cultural diversity of Hawaii's residents.
"Japanese, Hawaiian, Korean, Filipino, and American cuisines are commonplace and expected in our communities," Medeiros says.
"When building menus, it is important that all cuisines are included, and recipes are executed correctly. This carries over outside of the dining room and includes snacks and food during activities."
Maintaining cost efficiencies
Personalization adds complexity to a community's dining program, and complexity increases cost, Wiese points out. However, technology can help address one of the trickiest cost-related challenges customization creates for communities.
"With a greater selection of foods, dining venues, and events, it may be difficult for chefs to forecast exactly how much food to order and prepare," Williams says.
"This can lead to over-purchasing and overproduction which affects budget negatively. As in restaurants, we are seeing the use of tablets and point-of-service (POS) systems to track what residents are ordering and what are the most popular items. This is a significant tool in forecasting food production."
The eMenuCHOICE system, a web-based POS dining application for senior living, is among those offering the capability to track orders and develop forecasts based on data. Chefs can use the information to develop menus that fit their customers' preferences.
"You can control your costs while offering more choices, which is where people are trying to get to these days," says Matt Stenerson, co-founder and CTO of eMenuCHOICE.
The Plaza Assisted Living recently converted to a POS system in the dining room and on the care floors that allows residents to customize their starters, entrees, and desserts with alternative menu items and condiments.
In addition to customization, the system provides ease of ordering for residents and increased efficiency for staff.
"Satisfying everyone at the same time is a challenge," Medeiros says. "If we only have to satisfy one resident, this would be easy, but making a couple hundred residents feel special and personalized is a bit tougher."
Integrating healthy choices
With trends in senior living shifting from a hospitality and service model toward one of health and wellness, personalized nutrition becomes a central responsibility for communities, says Travis Palmquist, vice president and general manager, Senior Living, PointClickCare.
"Operators need to be able to provide customized dining and diet options to help their residents thrive while living with chronic and complex conditions," Palmquist says.
Consequently, solutions such as PointClickCare's Nutrition Management and eMenuCHOICE compile and maintain relevant health and nutrition records for residents.
When residents order using eMenuCHOICE, for instance, important health information is displayed, such as key dietary preferences and allergies or other restrictions. Residents can view photos and ingredient lists for each dish before making a decision. Menu items that conflict with those restrictions are highlighted, and alternative menu items are suggested for the resident.
"It's always displayed along with the resident and their order," Stenerson says. "Even when a ticket prints out to the kitchen—if you're doing restaurant kind of dining—you can have the allergens and the special diet information and the resident's name on that ticket. And so everybody is up to date with the latest information."
Emerging tech trends
While tablets and point-of-sale systems occupy a prominent place among the tech-based solutions helping residents customize dining today, other innovative solutions could be in the works for widespread use, following the lead of the restaurant industry.
For instance, robotics devices affixed with tablets could be employed for residents to make their menu selections, and facial recognition could be used to bring residents' preferences and restrictions to the forefront when it's time to order food.
Communities are also looking for ways to bolster on-demand delivery options for residents. Among the innovative methods on the rise in the restaurant industry is the use of ghost kitchens, which are commercial kitchens dedicated to preparing food solely for delivery.
In light of the growing appetite for food delivery—a $35 billion business projected to grow tenfold in the next 10 years, according to Restaurant Hospitality–senior living is projected by some to follow restaurants' lead and employ these specialized food preparation spaces. Some may partner with a delivery service to offer efficient delivery options and more choices for their residents.
No matter the technology at play, once a new system is implemented or a new philosophy is adopted related to dining, Williams says, training is critical.
"Looking at the analytics over the past few years, we have identified that training is the number one root cause when standards are not followed," Williams says. "Train, train, train. If staff do not understand the dining program, the program could lose flexibility."
References:
Updates for Residents & Families
Temporary Visitation Guidelines – Effective 3/23/20
The Plaza COVID-19 Resource Guide for Kupuna